Gopass
Resort Bešeňová - water park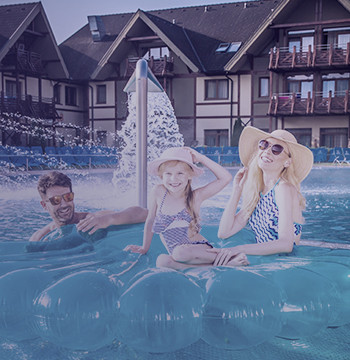 New in summer
Let yourself be carried away not only by water waves but also by resort services and spend a well-deserved carefree holiday.

Enjoy thermal pools in summer, outdoor pools, relaxation on water slides, great fun while rafting, swimming, conquering strong streams.
Harmónia Wellness & Spa
Discover your own harmony of body and mind and enter a world of steam, aromas and relaxation. Our holistic sauna world that focuses on body, mind and spirit is the perfect source of energy for everybody.

Try the special mastery of sauna masters at day and night sauna rituals. Experience intensive relaxation with theme music and elements of show programmes that move every sauna session to a completely other level that you have been used to before.
Resort accommodation
Only our hotels guarantee unlimited access to the pools of the Bešeňová water park.

Stay at the Bešeňová resort hotel and relax in the thermal heart of the Liptov region after a delicious breakfast.

The Galéria Thermal hotel offers high-standard services and individual approach including private thermal pools to ensure maximum relaxation.
Gopass resorts
Gopass are 5 countries, 26 resorts, 18 hotels and endless unforgettable experiences!